As we start a new year, legal aid organizations across the country are struggling with the impacts of our country's economic crisis — a decline in interest rates has decreased our budgets and growing unemployment numbers have increased demand for our services.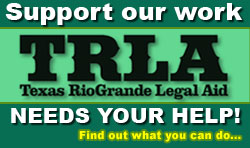 Now more than ever, Texas RioGrande Legal Aid needs your help to continue to serve low-income Texans and bring them access to justice.  Whether you can only give us five minutes of your time or are willing to do pro bono work at one of our branch offices, every little bit helps.
Here are just a few of the ways that you can help TRLA in 2009:
Sign up as a friend/supporter of Texas RioGrande Legal Aid.
Are you on facebook? Do you have an account with change.org?  TRLA is registered with all of these sites and needs its supporters!  Be our facebook friend, support our facebook cause, friend us on MySpace, support us on change.org, or subscribe to our youtube channel! Your support helps bring attention to the many legal issues facing low-income Texans.
Write a testimonial.
On TRLA's new fundraising website supporters, donors, board members, former clients, and former employees can write testimonials on the impact and importance of our work. These testimonials can encourage others to support our cause.
Become a fundraiser.
Did you know that change.org allows you to create your own fundraising page for TRLA?  Whether it be at your office, among your friends and family, or even through your local bar association, you can help us raise funds and continue our commitment to low-income Texans.
Donate.
TRLA could benefit from your time, used office supplies, and financial contributions. Contact your local TRLA branch office if you'd like to do pro bono work or donate office supplies.  Financial donations can be made online or through your Community Shares workplace giving program.
Use Prime Partner Banks.
Attorneys in Texas help raise money for legal aid organizations every year through their IOLTA accounts.  Because Prime Partner banks have agreed to pay higher interest rates on these accounts, using a Prime Partner bank increases our resources every year.  A complete list of current Prime Partner banks can be found here.
Promote our work.
TRLA always needs help promoting our services and success in the communities we serve.  Whether you know someone in need of legal help or just want to make sure that your coworkers and family know about the great work we do, every little bit helps bring awareness to our cause.
This year Texas RioGrande Legal Aid expects demand for our services to increase dramatically and we need your help.  Whether you can spare five minutes of your time or a few hours, whether you can give $5 or commit to raising more, your continued support is appreciated!